Skip Navigation
Website Accessibility

Welcome to The Tangled Ball
---
Opening early on Small Business Saturday, Nov 25th at 9:00am!
Thanksgiving has now come and gone... to me, in the world of retail, Thanksgiving marks the end of Fall and head-first into the Winter Holidays. Most small businesses do not offer Black Friday deals; instead
we honor Small Business Saturday
.
Every year for SBS, we have offered some fun giveaway with purchase. This year, I think we HIT the jackpot with our giveaway! On my travels this year, I kept seeing the cutest market/project bags, personalized with anything (hint). We found the company Apolis. Every Market Bag they make is handcrafted in Bangladesh by Mothers who receive Fair Trade-certificate wages, annual profit dividends and a retirement fund. How awesome is that!!!
Sooooo, with every purchase of $200 or more, you will get one of these hip, responsible and useful bags FREE: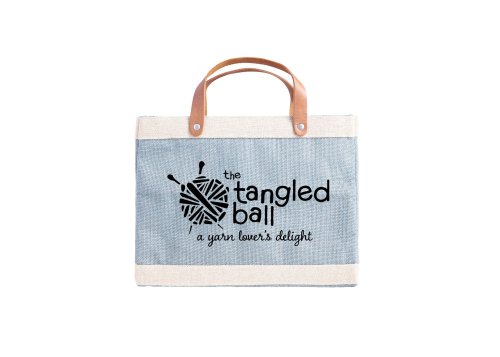 We also have a few other goodies to offer:
Spend $100-$199 and get a $20 Tangled Ball Gift Card (for use after Christmas)
Spend $50-$99 and get a Tangled Ball Measuring tape
Spend $1-$49 and get a Tangled Ball Project Tag.
One per customer while supplies last.
So busy with moving and Yarn Crawl preparation, that we're behind on a new, focused project!
We wrapped up our last community project of winter items for the school in the neighborhood. We need to start another one. I am thinking of something for the refugees coming into Denver -- or possible washcloths, soap sacks or something for the homeless? I AM TOTALLY OPEN TO SUGGESTIONS.
Visit our
Community Projects page
for more details.
Donate Time!
Knit/crochet from your own stash, or use yarn from the store's donation bin. Anyone who brings in an item to add to the the collection will receive 10% off a purchase.
- or -
Donate Materials! Purchase yarn at a 20% discount to add to the store's donation bin, for any knitter/crocheter to grab in creating items!


Be sure to check out our calendar and the Edgewater Public Market's calendar for upcoming events and classes!


---
Latest Classes
More classes are being scheduled! Click below to see what classes are available.


Monday Noon - 7:00pm

Tuesday Noon - 7:00pm
Wednesday 11:00am - 7:00pm
Thursday 11:00am - 7:00pm
Friday 11:00am - 7:00pm
Saturday 11:00am - 7:00pm

SMALL BUSINESS SATURDAY, Nov 25th: 9:00am - 7:00pm
Sunday Noon - 6:00pm